Senior ASMAR Engineer, Dr. Vladimir Chtcherbakov, participated on behalf of the Company in the "IEEE International Symposium on Antennas and Propagation and USNC-URSI Radio Science Meeting AP-S/URSI 2016", exposing "New Formulas for Near Fields On-Axis of Circular Aperture with Tapered Distributions", in order to promote the ASMAR brand and advertise the Company's research capacity in the area of Antennas, especially in relation to the discovery, by ASMAR, of new analytical solutions for Maxwell's equations for the fields of parabolic antennas, microwave lenses and circular aperture antenna arrangements.
These analytic solutions for Maxwell's equations allow quicker simulation of antenna radiation fields more quickly and in addition estimate the accuracy of all the numeric methods for antenna simulations.
Doctor C. J. Reddy, Vice-president of Business Development at Corporation ALTAIR, publicly praised the work performed by ASMAR, during his presentation. The IEEE appreciated and recognized the contents of the presentation as an original development.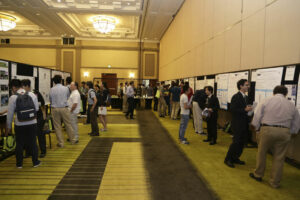 The approval of the article presented in this international symposium, allows ASMAR to legally use the new formulas in the electromagnetic compatibility studies of the electronic equipment installed in ships and other platforms and the analytical solutions of Maxwell's equations for fields close to aperture antennas developed at ASMAR are original and singular at a worldwide level and constitute a contribution to global knowledge in the area of electromagnetism.