September 12, 2016
Due to the anniversary of the Directorate of Maritime Territory and Merchant Marine, on August 29, 2016, the Commander in Chief of the Navy visited the prototype of the "Autonomous Module for Maritime Traffic Control in the Southern Zone", designed and built by ASMAR Valparaiso, which is in service for testing.
This project had to satisfy the requirements defined by DIRECTEMAR, such as: electronic equipment room, repairs workshop, emergency habitability, energy generation system and fuel storage space, considering a minimum 6-months of autonomy.
The design developed by ASMAR's Industrial Plant in Valparaiso, considers its unmanned operation for 6 months, in order to carry out structural inspections, reconfiguration of the information, equipment repairs and fuel reloading at the end of that period.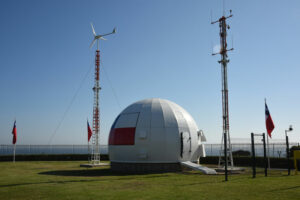 The systems that use wind power, backed up by batteries are: radar, radio equipment, satellite radio link and the surveillance and monitoring system.
The electric generation priority for charging the module's batteries is defined considering the 6,500 watt wind power generator first, then the 400-watt solar cells and finally 2 diesel generators of 8,500 watts each.
The Station is connected by satellite to the Central Maritime Traffic Control System and the program established for the project defined that after the manufacturing stage, it would be assembled in Playa Ancha, at the Punta Angeles Lighthouse, for its start-up in connection with the Central System in order to undertake the correction of normal details inherent to any prototype in  Valparaiso.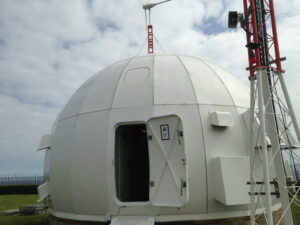 As of September 13 it will be disassembled by technicians of ASMAR Valparaiso and consolidated in 20-foot containers for transportation by the Command in Chief of the Third Naval Zone to Yamana Point, on the north shore of the Beagle Channel.
At that location it will be reassembled for the last time by ASMAR personnel, who will travel to carry out the work, allowing DIRECTAMAR's personnel to configure its start-up finally connected to the central system at the final stage, which begins in November. In this manner, the system will be installed and delivered for use to support of maritime activities in the southern zone.