January 22, 2016.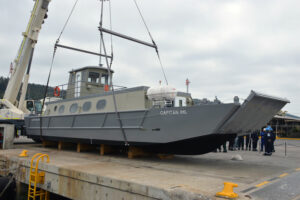 The Launching Ceremony of the "Capitán IHL" Passenger Transport Boat  (LTP) took place on January 21, at the repair dock of ASMAR's Industrial Plant in  Talcahuano.  It was presided by the Director General of Navy Services and the Chairman of the Board of ASMAR, Vice Admiral Francisco García-Huidobro Campos, with the presence of the Commander of Terrestrial Operations of the Army, Division General Luis Chamorro Heilig, ASMAR's Director, Rear Admiral Andrés Fonzo Morán, and military and naval authorities and special guests, including Mr. Gustavo IHL De la Fuente, the son of Captain Pablo IHL Clericus.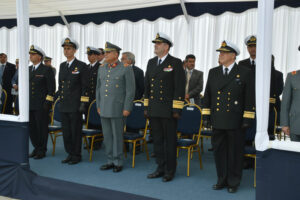 In his speech, ASMAR's Director highlighted that this vessel is the first construction undertaken by ASMAR for the Army, "…which fills us with pride, with this we clearly and decidedly contribute to the joint technological development of the branches of our Armed Forces…", stating his appreciation for the trust placed by the Army in ASMAR.
Subsequently, Mr. Julio Sánchez Salamanca, Welder from the Steel Workshop, was recognized as the Best Worker of the Project,  prize awarded to the worker that most stood out for their professional qualities, production skills and contribution to quality.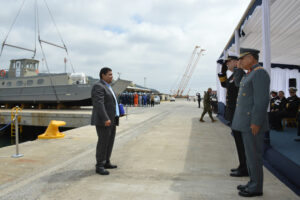 The vessel was then blessed by Evangelical Pastor Alberto Jiménez Valenzuela and the Chaplain for the Second Naval Zone, Religious Service Lieutenant Commander Rafael Providell Molina.  The launching manoeuvre was then performed, which consisted in lifting the vessel with the aid of a crane and leaving it afloat in the shipyard's repairs dock area.
This vessel is the product of contract a signed on July 10, 2015, for the construction of a Personnel Transport Boat for the Chilean Army that will operate in O'Higgins Lake, supporting connectivity in the zone by transporting personnel guarding our sovereignty and supporting the community.  It should be noted that the main role of the vessel is to transport forces from Caleta Bahamondes to the sectors of la Carmela or Candelario Mancilla in O'Higgins Lake, contributing toward the training of deployed Army personnel and maintaining the Chilean presence in the Southern Ice Fields (Campos de Hielo Sur).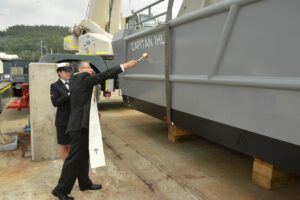 In fact, the Boat was named "Capitán IHL", in honour of the outstanding Army Officer Pablo IHL Clericus, who during his military career reached the rank of Lieutenant Coronel and participated in the expeditions to Campos de Hielo and the Chilean Antarctic Territory, and was the first to undertake the mapping of the Ice Fields zone.
The vessel has the following characteristics:
| | |
| --- | --- |
| Length | : 18.67 mts. |
| Breadth | : 4.9 mts. |
| Speed | : 15 knots |
| Autonomy | : 100 nautical miles at 15 knots |
| Crew | : 3 people |
| Transport capacity | : 15 soldiers with gear |