October 13, 2015.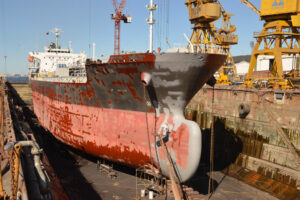 The B.T. Shamrock Mercury, belonging to Japanese company Daitoh Trading Company Limited, entered Dry Dock 2 for repairs on October 15.
During this period, which will last until October 16, work will be performed on the shaft line, hull valves and boiler valves, it will undergo a walkthrough of the main engine, structural repairs to the cargo tanks, sandblasting and painting of the ship.
The main characteristics of this tanker include: it is 145.53 metres long, with a breadth of 23.70 metres and 11,628 gross tonnage.