November 2015.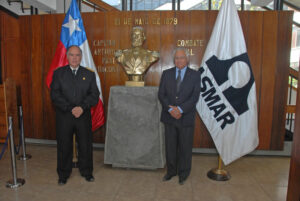 For the purpose of establishing more knowledge sharing among the companies in the metal-mechanics industry and at ASMAR's invitation, the Board of the Association of Metallurgical and Metal-mechanical Industries, ASIMET, held an ordinary meeting on November 5 at the Industrial Plant of ASMAR in Talcahuano.
After the meeting, the Director of ASMAR, Rear Admiral Andrés Fonzo Morán, spoke of the Company's activities and, specifically about the production activity of its Talcahuano Industrial Plant in the areas of ship repairs and construction, in order to then tour the different work areas and workshops of the Shipyard.
ASIMET's delegation was headed by the Boar Chairman, Mr. Juan Carlos Martínez, the First and Second Vice-presidents, Mr. José Esteban Solari and Mr. José Pablo Domínguez, and the Association's Directors, in addition to its General Manager.
It should be noted that through its Director, ASMAR, is part of the Board of this industrial association.