September 21, 2015.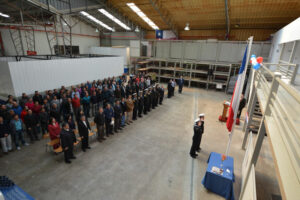 The new facilities of the Boiler and Pipe Workshop were inaugurated on September 17, in an internal ceremony presided by the Manager of ASMAR Talcahuano, Ship Captain, Harold Kauer Tapia and Workshop Chief, Héctor Gaete Vera, accompanied by the Shipyard's Managers and Officers.  The project included the construction of habitability for personnel and the outfitting of the machine shop.
The habitability sector considers, on the first floor, four changing rooms for 150 people, with showers, dressing rooms and washrooms, and on the second floor, offices for the Workshop Chief, Secretary, Section Chiefs, Supervisors and rooms for Engineers with their respective sanitary facilities. The implementation of the Workshop's machine shop, basically included work related to electricity in order to power all the equipment, changing the lighting of the entire complex for brighter lights (daylight), replacing translucent sheets in order to have better light during the day and minimize the use of electricity, and replacing the floor where there are fissures and cracks, recovering approximately 300 m2 with concrete. We emphasize the implementation of an industrial smoke extraction system, through the installation of sleeves that capture the smoke and exhaust it outside, after filtering it allowing for a cleaner environment.
During the ceremony, the Chief of the Boiler and Pipe Workshop highlighted the work performed by this working group from its origin and the good work environment of the 139 persons that compose the Workshop, all of which has allowed them to overcome the various challenges that had to be faced, such as the serious damages suffered by the facilities after 27/F, where they had to stay until the restructuring of the Plant's buildings and allocation of the resources needed for the reconstruction. That is how the building complex that housed the old warehouses was allocated for this Workshop and today houses their new facilities.