Rear Admiral Andrés Fonzo handed over his position to Captain Sidney Chellew.
Valparaíso.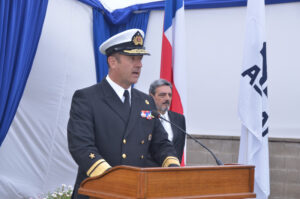 On December 16, a ceremony to hand over ASMAR executive management was held at the ASMAR Valparaiso Industrial Plant. The event was headed by the General Director of Services of the Chilean Navy and President of the ASMAR Board of Directors, Rear Admiral Kurt Hartung, who acted as Interventor. The ceremony was attended by civil and military authorities, senior executives of shipping companies, staff of the ASMAR Head Office and the Valparaiso Industrial Plant, representatives of Talcahuano and Magallanes Industrial Plants and special guests.
In an emotional speech, Rear Admiral Andres Fonzo expressed his gratitude and thanked to the more than 3000 employees of ASMAR and highlighted the effort deployed by all of them to recover the Talcahuano shipyard, after the events of February 27, 2010, which marked to a great extent his effort during the 8 years heading this autonomous State-owned company, thus managing to fulfill the mission of ASMAR, by materializing the maintenance of the ships of the Chilean Navy and the construction of the new patrol vessels for the Institution.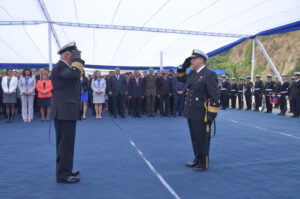 Finally, Rear Admiral Fonzo thanked his family, especially his wife and children and all those who helped him during his tenure as ASMAR Executive Director and also during his career as naval officer and naval engineer.
Rear Admiral Kurt Hartung highlighted the brilliant naval career of Admiral Fonzo, who, in addition, retired from the Navy after 42 years, and emphasized his full commitment to recover the shipyard and take the projects to a good end, as well as his concern to improve the quality of life of its employees. In addition, he wished success to Captain Sidney Chellew upon assuming the command of the Company.
Subsequently, in t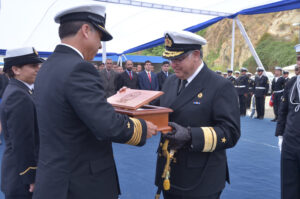 he presence of the Interventor, Rear Admiral Andrés Fonzo and the new Managing Director of ASMAR, Captain Sidney Chellew, signed the corresponding documents to handle over the ASMAR Head Office.