President Bachelet pressed the button to start cutting the steel plate of which will be the first ship of this type built in Latin America with an investment that will exceed US $ 210 million
Talcahuano (Chile). Project "Antarctica I", which considers the construction of a modern Antarctic ship for Chile, took an important step when her construction began on May 9th, in a ceremony held at the Steel Workshop of ASMAR Talcahuano Shipyard.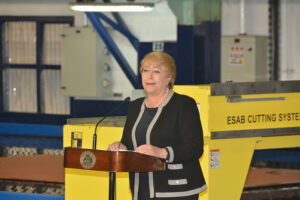 On the occasion, President Michelle Bachelet pointed out that 'this project, which has been desired since the obsolescence of icebreaker 'Almirante Viel' became evident, not only poses a tremendous challenge for ASMAR and the Chilean Navy, but also it will place the country at the forefront of the protection and projection to the Antarctic continent and its surrounding area.'
This new unit will have a capacity that will allow her to extend the Antarctic campaigns and will have modern equipment to support the development of high level scientific studies on board in microbiological, macrobiological and chemical laboratories.
It should be noted that the Chilean Navy's Program, Research and Development Department, in conjunction with ASMAR's Shipbuilding Projects Department, participated in its configuration, which gathered the requirements of the actors committed to the national Antarctic effort, such as the Chilean Antarctic Institute, the Chilean Army, the Chilean Air Force, and the Chilean Navy.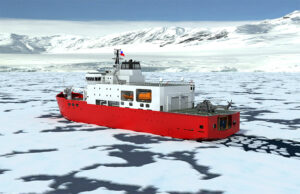 The ship will have a length of 111 meters, a 21-meter breadth and a draft of 7.2 meters, and may operate at 3 knots on one-year-old ice up to 1 meter thick covered with up to 20 centimeters of snow, while its maximum speed on normal surface will be 15 knots. With a total crew of up to 120 people, the ship will have a cargo capacity of about 510 m3; plus 400 m3 of fuel transport; and another 400 m3 of load on pallets.
In addition, it has the necessary characteristics to operate in extreme cold weather, thanks to its hull designed to operate at -30 ° C, equipped with safety equipment for human life at sea at those very low temperatures.
Among her roles, she considers search and rescue tasks in case of sea, air or land emergencies in the Antarctic continent, with the support of helicopters embarked, rescue boats, and hospital facilities with surgical capabilities.
The new polar ship would be operational for the 2022-2023 season.