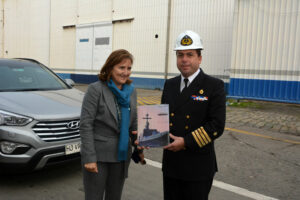 Talcahuano. As part of a visit to the Naval Base, on Thursday, 8 June, the French Ambassador to Chile, Ms. Caroline Dumas, and the French Defense Attaché, Captain Christophe Bergey, visited the Industrial Plant of ASMAR in Talcahuano.
Upon arrival at the Shipyard, the diplomatic representative was received by the General Manager of ASMAR Talcahuano, Captain Harold Kauer Tapia, who after a brief presentation on the organization accompanied the Ambassador on a tour of the main facilities, where she could appreciate the submarine 'Carrera' under maintenance in floating dock 'Young'.
During the visit, the Ambassador expressed her interest in knowing the main logistics base of the Chilean Navy and highlighted the good relations between the two countries in the areas of security and defense, as well as between the respective Navies in particular.