On August 10, the Ceremony for the delivery and commissioning of the new Offshore Patrol Vessel OPV-84 'Cabo Odger' was held in ASMAR Talcahuano.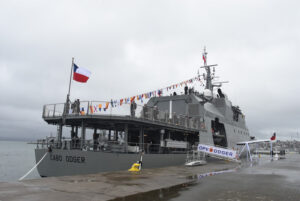 The ceremony was headed by Michelle Bachelet, President of Chile, José Antonio Gómez, Minister of Defense, and Admiral Julio Leiva, Commander in Chief of the Chilean Navy.
The new vessel will have as its base port Iquique, the Fourth Naval Zone, and will be integrated to the auxiliary fleet of the Chilean Navy, in order to contribute to increase the capacity of the Institution in its maritime role, having as main tasks the patrol and maritime control of jurisdictional waters, maritime search and rescue, control and combat of water pollution, support for the maintenance of maritime signaling, logistical support to isolated areas, maritime police, command and control of a defensive task group and auxiliary transport.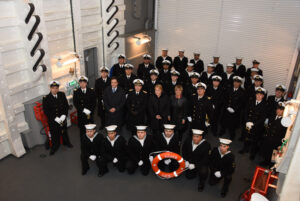 As general particulars, the OPV-84 'Cabo Odger' has 80.6 meters of total length (long), 13 meters of breadth (wide), diesel engines for its propulsion system, 1771.6 tons of full load displacement, autonomy for 30 days and accommodation for 62 people.
The fourth Offshore Patrol Vessel is part of the 'Danubio IV' project that started in 2005, which considers the construction of a series of 6 patrol vessels for the Chilean Navy. To date, OPV-81 'Piloto Pardo', OPV-82 'Comandante Toro' and OPV-83 'Marinero Fuentealba' are operating.