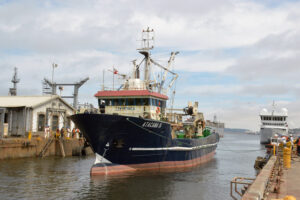 Talcahuano (Chile). During the first semester  several repairs and modernization projects were carried out by the Fishing Vessels Sales Management.
In the national market, the following fishing vessels were repaired in our shipyard: FV (Factory Vessel) Unzen belonging to Empresa de Desarrollo Pesquero de Chile S.A., which for two months made a modernization of accommodations on second deck, corresponding to Stage II of the project. It should be noted that Stage I was carried out between December 2016 and February 2017, which consisted of the installation of a sewage plant and the modernization of accommodations on second deck in its first stage.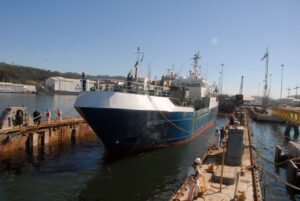 Subsequently, a new refrigeration plant RSW (Refrigerated Sea Water) was installed to the PAM Atacama IV and V belonging to Compañía Pesquera Camanchaca S.A. While the ships of Company Orizon S.A., PAM Malleco and PON (Pontoon) Centauro, carried out works on the hull and were painted. As well as PAM Santa María II, belonging to Lota Protein Company.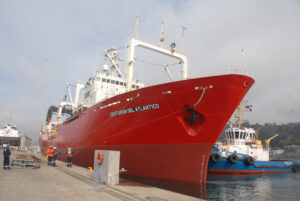 Works were also developed on PAM Emilia belonging to Compañía Pesquera Camanchaca S.A., where structural repairs were made on deck, holds, propeller and steering system, works for the reclassification and installation of the RSW plant, among others. RAM Bandurria II, belonging to the SAAM S.A. Company, underwent structural repair of the Schottel and careening. While Ferry Cullamó of the Ministry of Public Works, underwent normal repairs, such as careening and the repair of the bow and stern ramp. PAM Don Edmundo, belonging to Company Blumar S.A, carried out works in the steering system; while FV Centurión del Atlántico of company Estremar S.A. Argentina, carried out until mid-July, various repairs, such as the standard careening process and the repair of deck winches.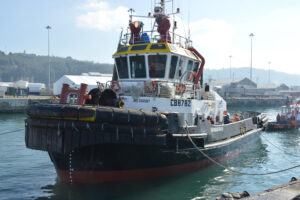 In the area of foreign ships, maintenance of FV Kwang Ja Ho, belonging to In Sung Corporation Ltd. of South Korea, was carried out, involving careening and shaft line work. Finally, the modernization of Yacht Suri, of the Suri Holdings Ltd. Company of the United States, a ship that remained for 5 months in the Shipyard for structural repair of the bow corridor on hold deck, modernization of accommodations, careening and works on the sprinklers system of the hangar.