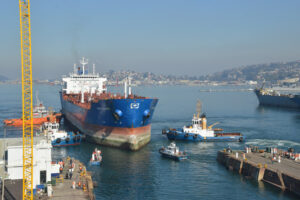 Talcahuano (Chile).  Tanker "Punta Angamos" belonging to the Chilean shipping company, Sociedad Nacional Marítima, is under maintenance in ASMAR from August 1, 2018.
Service will include: polishing of propeller, maintenance and repair of anchoring system, installation of zinc anodes, maintenance of navigation equipment and painting, among others.
It is estimated that works on this vessel having 186.82 meters in length and 27.40 meters wide, will end on August 11.