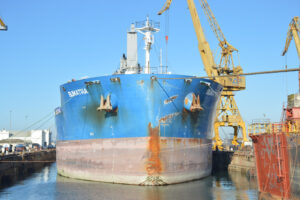 Talcahuano (Chile). The Portuguese flag vessel M.V. Sumatra, belonging to the German shipping company Green Dolphin Gmbh & Co Kg, arrived at the shipyard on July 13 to carry out a series of repairs, after she hit the bottom while crossing through Angostura in front of Puerto Eden at the end of June.
The bulk carrier of 179.95 meters of length, 31.99 meters of beam and 38,943 tons, will perform works such as: disassembling the damaged rudder, removing the sternum seals, disassembling the damaged propeller, damaged propeller shaft, the intermediate shaft will be transferred to workshop for inspections, structural work on the hull, verification of the alignment of the propulsion line, damaged rudder wick and repair of the rudder in the workshop.
The ship will remain in the shipyard until the arrival of the parts of the propeller, propeller shaft, rudder horn, stern pipe tube and tube seals. Later, she will be docked for the installation of the removed elements.